Looking to reduce joint pain and improve flexibility and comfort? Welcome to our guide to the best joint health supplements – now updated for 2023.
When most people think about supplements, multivitamins or protein powders are typically the first ones to come to mind. But when talking about joint supplements, people start thinking about them when it's too late; the pain and stiffness have already been going on for years.
If that's you and you're looking for joint supplements that actually work, you've come to the right place. The good news is that joint pain and discomfort can be managed and even reversed in some cases. Natural joint formulas can be a highly effective & safe part of that process.
If you already aren't familiar with them, joint supplements are food products that reduce joint pain and improve your comfort and quality of life by combating inflammation, blocking enzymes that destroy your connective tissue, and helping to protect & repair your cartilage and ligaments from constant wear and tear. The ingredients in joint supplements typically include nutrients and plant extracts such as selenium, ginger, omega-3s, and Boswellia Serrata. These have been shown to produce the aforementioned effects; helping you to move pain-free in the process.
The best joint supplements use high-quality ingredients in clinically studied dosages to help you with:
Relieving inflammation and pain
Combating symptoms of arthritis
Protecting cartilage & connective tissues
Enhancing joint flexibility and comfort through increased lubrication
While there are a ton of joint supplements on the market today, not all of them are worth the price they're charging. A quality joint supplement must not only be effective but also safe and healthy for everyday use; it should also be from a reputable and trustworthy manufacturer.
Using these criteria, we're able to recommend you the following joint supplements that can easily stand up to big names on the market.
We did not use these supplements, but we analyzed their ingredient profiles, comparing them against the available scientific evidence to see what effects you can expect from them.
We also looked at other people's testimonials and professional reports online, allowing us to present to you the top 3 joint supplements we recommend right now.
#1: Performance Lab Flex – Best Overall
"The most advanced, cleanest-quality joint supplement on the market."
Flex is an ultramodern joint supplement made by research specialists from Performance Lab. It's been highly rated online—after analyzing the formula ourselves, we're inclined to agree with most of the reviews.
Performance Lab Flex is one of the best joint supplements you can buy to improve your joint comfort and mobility.
What seperates Performance Lab Flex from other joint supplements?
The answer is, its usage of in-house patented ingredients that mimic nature-identical nutrients. This unique way of delivery makes the supplement easy for your body to absorb and utilize.
Performance Lab Flex ticks all our boxes when it comes to;
Ingredient studies & dosages
Effectiveness at helping with pain, inflammation, and stiffness
Safety of its formula
Price-to-value ratio ($1.23/serving when buying in bulk, $1.63/serving if buying a single bottle)
Another important advantage of Flex is that it contains no unnecessary ingredients. The formula is 100% natural and carefully thought out. From CurcuWIN® Turmeric to OptiMSM®, each ingredient has its role in supporting joint health while simultaneously working together to promote long-term joint function from different angles.
See the ingredients list:
Ingredients in Performance Lab Flex come in their most bioavailable, purest forms. Everything is encapsulated in plant-based capsules made from fermented tapioca for easy digestion.
Performance Lab Flex works to give you the following benefits:
Joint lubrication and shock absorption
Reduced aches and inflammation
Quicker recovery times
Supports ligaments and tendons
Better flexibility
Better joint health in the long-term
For the price of $1.63 per day, it's one of the best value-for-money joint supplements, due to the number of patented ingredients. We're actually surprised it doesn't cost more considering the high price of its formula manufacturing.
The Good
5 key evidence-supported ingredients
Supports joint pain reduction, improved flexibility, and protection & healing of connective tissues
Safe dosages make it healthy for daily use
Produced in the USA and UK in the gold-standard cGMP- and FDA-approved facilities
Excellent reviews; backed by health professionals
The Bad
Interested in Performance Lab Flex?
Developed by Industry Experts

Improves Long-Range Function & Comfort

Clinically-Backed Ingredient Doses

Supports Joint Lubrication

Shock & Impact Absorption

Protects Connective Tissues
2. FlexAgain – The High-Dosed Joint Supplement
"A high-grade joint product that gives you more. More ingredients, more servings, more quality."
FlexAgain is a no-nonsense joint supplement with some of the best ingredients currently available on the market. We like its straightforward approach – there are no marketing gimmicks, FlexAgain is a supplement that gives concrete results in the area of pain & inflammation reduction, along with lasting joint health & flexibility support.
FlexAgain is coming in second place only due to its premium price. However, it contains more ingredients than Performance Lab Flex (as you'll soon see below), and the ingredients themselves are dosed generously for potent and long-lasting benefits on your joints. If money is not an issue for you, we recommend trying FlexAgain.
From our analysis, it's well within its rights to claim the title of the most potent natural joint relief supplement on the market.
Here are the ingredients you'll find in FlexAgain:
Omega 3 1100mg
Vit D 15 mcg
Vit K2 70mcg
250mg of Ginger and Blue Galangal Extract
100mg bromelain
500mg curcumin extract
100mg resveratrol
50mg methylsulfonylmethane
400mg glucosamine
250mg chondroitin
100mg Boswellic Acid
FlexAgain's ingredients are shown to:
Reduce inflammation
Support cartilage recovery
Improve your range of movement
Promote all-around joint health
Be safe & healthy for daily use
FlexAgain is a relatively new name around the block, but it's already bringing real results to real people. The supplement is produced in cGMP and FDA-approved facilities and it's available in the US, UK, and other countries around the world with fast shipping options.
Even if FlexAgain doesn't work as you wanted, you're covered with a 90-day money-back guarantee. If you don't see results within 3 months you can return the empty bottles for a full refund, no gimmicks involved.
All things considered, FlexAgain has a big thumbs up from us.
Advantages
11 science-backed ingredients
Maximum impact formula for reducing joint pain, improving flexibility, and protecting long-range joint function
Bigger doses for faster results
3rd party tested for quality and safety
Savings on bulk purchases
Drawbacks
Only available on the official website
Relatively new brand on the market
See our full review: FlexAgain Review
Interested in FlexAgain?
3. ProJoint Plus
The third joint supplement we recommend is ProJoint Plus.
ProJoint Plus meets our most important criteria when it comes to ingredient choices. MSM, glucosamine, chondroitin, and turmeric are all included.
For new users, you should take 3 capsules per day with food. If you feel like that's not enough and you want faster pain relief, you can safely take up to 6 capsules/day for the first 14 days.
While better than many cheap joint supplements out there, ProJoint Plus has some underdosed ingredients. E.g. there is only 25mg of MSM per serving. Compared to Flex which has 100mg of MSM per serving.
You can get a 15-day supply of ProJoint Plus for $29.95. Alternatively, a 2-bottle option lasts a full month and sets you back by $52.95.
ProJoint Plus Ingredients
ProJoint Plus contains the basic and essential ingredients that make up an effective joint supplement. Here's a look: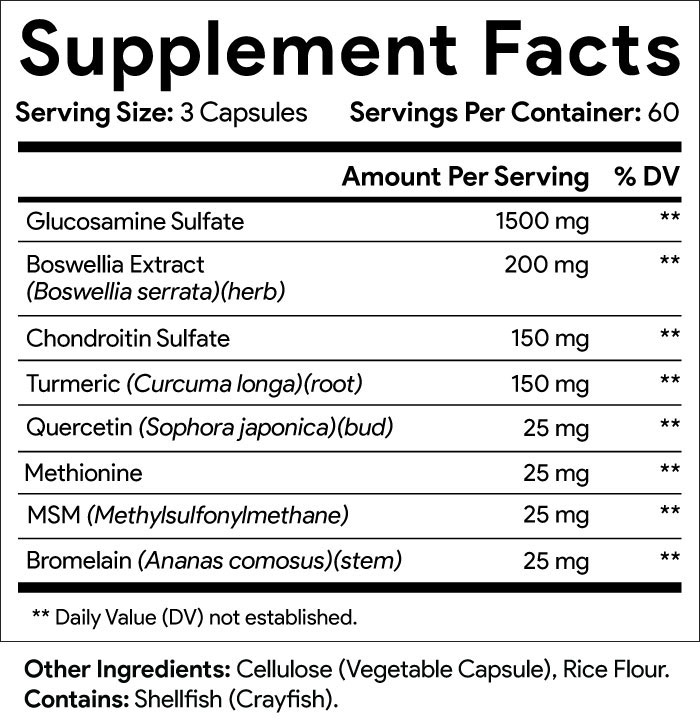 Although the dosages of some ingredients should be higher, we still believe this supplement should enhance your joint flexibility and reduce pain. We also like that there is no junk or harmful filler ingredients in Pro Joint Plus.
Overall, it's a supplement worth considering if you just want to give it a try for 2 weeks before deciding if you want to pay for something with a higher price tag.
Advantages
Some highly effective ingredients in its formula
Excellent customer reviews
Helps to diminish joint pain & inflammation
Drawbacks
Low dosage of some ingredients, mainly MSM
Only 20 servings per container (less than 1 month's supply)
Interested in ProJoint Plus?